Dedicated to Precision.  Dedicated to our Customers.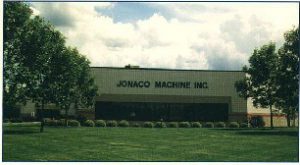 For over 50 years, Jonaco Machine has been providing leading edge, quality machined components to its customers.  Technologically advanced equipment and systems and a team dedicated to world class performance has allowed Jonaco to continually satisfy the needs of a diverse list of world class customers.
Known for our capability to produce precision machined parts in either a high or low volume environment,  Jonaco Machine has expertise from rapid prototyping through mass production.  Jonaco has invested in the most sophisticated equipment and systems, allowing us to consistently deliver parts within 10 days or less from receipt of order. Our investment in technology and information systems allow us to provide competitive machining and delivery solutions and to track your components from prototype through production.
Jonaco Machine operates out of locations just outside of Minneapolis/St. Paul in Chaska and Shakopee Minnesota. Our manufacturing facilities encompass 87,000 square feet of state-of-the-art climate controlled manufacturing space.
Message from Leadership
At Jonaco Machine, we recognize we compete in a global environment and must provide quality and competitive products to our customers.  Jonaco has a rich history and dedication to investing in people and technology to maintain our leadership position in the manufacture of precision machined components.
As a contract machining specialist organization that serves critical industries, Jonaco Machine tracks the market and technology trends that affect our customers and develop the production processes that will best meet their needs. We utilize state-of-the-art manufacturing and inspection equipment, offer versatile precision machining services, and adhere to lean principles so we can produce a vast array of difficult-to-produce, close-tolerance parts with fast and dependable delivery schedules.
Utilizing our sophisticated ERP system, Jonaco can establish Kanban, minimum/maximum inventory levels and other forecasting and fulfillment techniques to ensure adequate product levels at all times. We are able to adapt quickly to the changing and urgent needs of our customers, with real time digital dispatch systems  that control the production flow and priorities of our customers. Our clients also appreciate how, as a Demmer Affiliate, we have strong financial stability and continually invest in cutting-edge technology and training for our team, which helps ensure exceptional consistency and quality in all the work we do.
Our systems, processes and technology  provide a competitive infrastructure, but the heart of our company is the experienced  and dedicated employees who work diligently to create the Jonaco difference every day.
We are proud to say that Jonaco still serves the customers we started with nearly 50 years ago and we look forward to putting our resources and dedicated team to work for you.
William J. Russell
President